FoolProof Feedback
How is FoolProof rated by the many different channels that use our programs?
Below you'll find some feedback we received in the last 12 months.
Thank you for being so much more efficient than my other curriculum providers!
Mrs. V. Mazur
Classical Academy
This program has been a life-saver for me. I teach 7th and 8th grade and the students really enjoy this program and have learned more than I expected.
Pamela Harden
Logan-Hocking Middle School
Thought I'd share this testimonial. I've been a Senior High math teacher for 18 years. About 5 years ago, I attended the Pennsylvania Governor's Institute for Financial Literacy. Two years later, while serving as a teacher mentor at the Institute I saw Mike Sheffer present Foolproof on two different occasions. I was hooked. Realizing the potential benefit that Foolproof provides to students and families, I took the Praxis test to become certified in Family and Consumer Science so that I could utilize Foolproof as the cornerstone of a financial literacy class. I'm currently writing a cyber course and teaching a freshman seminar class that meets twice every six days using the curriculum. When students get their IPAD's in a few days, 90 of our students will be utilizing Foolproof. (Wonder how many male teachers in PA have the dual-certification of Math/FCS?) In addition, I am affiliated with an organization whose mission is to empower lower-income citizens and will be using Foolproof with them I will be sharing these sentiments with Mr. Ryan Ramsey from the President's Advisory Council on Financial Capability for Young Americans at The White House as well.
Thanks again to all involved,
Greg Kaylor
Blairsville High School
Our math class is using the modules. We are loving them! The information is more than I had provided for my seniors. It prepares our kids for their future . Most of them will be moving out of their homes once they graduate. They are "at risk" kids credit deficient). The Phishing, the Nigerian scams were a real eye opener. The roommate scam is something that they would have done had they not learned about this. Your characters are fun and the different dialects keep their attention. We read the side articles and discuss them. So far we are pleased and the kids look forward to math which is a first! Great program. I am so glad a fellow teacher told me about this. I thought you might like the feedback.
Georgette Miller
New Berlin West High School
This tool is terrific. My seniors (Norfolk County Agricultural High School, Walpole, MA, USA) are getting a lot out of it and enjoying it. I think you've done an excellent job here.
Michael Hauck
Love what you have put together here! I think this generation of teachers/students are so fearless and filled with an integrity and truthfulness that we have never seen! You amaze me.
I have sent your link on to lots of my fellow teachers — wishing you great success!
Marypat Lee
Thank you very much for all your help! The product is great and so is the support!
Carolyn Leach
To The People of FoolProof,
I'm only fourteen, and I want to just share that right now, you know, to get it out there. I'm taking your course, and I'm really impressed by what you did. It's definitely the best online course I've taken, partially because it's not a lot of stress and partially because you give game breaks! It's not too boring, either, which is considerably impressive, especially because of the topic you introduce--credit. I actually enjoy it so far, because I'm learning and it's presented so well. Is it too late or am I too young to help in some way?
Thanks,
Nicole Pollack
Just to let you know that the program has been very successful here with my classes, and whenever I ask for feedback on what we have learned, it's mostly the FoolProof stuff they talk about!
Vivian Cisneros
Thank you for sponsoring the Foolproof curriculum for our schools. I just started using it and I love the information that is included. What a good tool to help prepare our students for real life! Thank you again for helping us train our students for the real world!

Amy Smith
Balko Public School
I assume there are many other teachers out there, like myself, struggling to find suitable curriculum to teach personal finance. So far, FoolProof is the only online program I have found that "tells it like it is." FoolProof really is much, much better than the boring lessons my students were doing. They are actually learning, so I am excited for them and know they will be better prepared than students who are not receiving FoolProof's messages.
Dennis Hawthorne
Lake Hamilton High School
Thank you for hosting the meeting today. I enjoyed learning more features about FoofProof and how more people in the community can use it as a resource.
I appreciate the time and money WEOKIE gives to personal finance. Teaching personal finance is my passion and I feel that without the support of organizations like yours, many teachers in this state could not do justice to this important subject.
Sally Clickner
Garber High School
I went to your presentation at a Oklahoma Council on Economic Education master teacher meeting, and I used this some last year in my Math of Finance Class. What I really like are the up to date videos with issues that are current in my student's lives. I LOVE IT !!!! GREAT JOB !!!!
Marie Knox
Western Technology Center
I really love the improvements that you have made this year. They have made foolproof work even better for me and my students.
Cindy Streznewski
The kids really enjoy doing this and it is a great learning tool.
David Peterson
Velva High School
Thank you for the update, it is nice to know someone is listening. That is not always true for other sites.
Deb Tinstman
I teach Consumer Education with the Family & Consumer Sciences dept. at Mill Valley H.S.
My students are really enjoying the modules and this is far better than using a text.
Keep up the good work!! I certainly appreciate your efforts.
Rebecca Caves
Mill Valley High School
I L-O-V-E the 'export results to xl spreadsheet! I had made a grid on my own to use before Christmas---but just found this addition!! SUPER!! THANK YOU :)
Kathy Risner
Broken Arrow Sr. High
Good morning!

I just received a phone call from the teacher I met w/ in early June from Winthrop High School. She has a multi-age group of students so the grade levels vary from freshmen to Senior's.

She had introduced Foolproof to only a handful of her students because it is so close to the end of the year. She said her students "loved it." All of her students scored an 80 or higher!

She will be teaching a personal finance class next year and she will require the students who take her class to complete the Foolproof Modules. She has also expressed an interest in adding this as a requirement for graduating Seniors…..YEAH!! She will get back to me late August so we can come up w/ an incentive plan for the students. (Possibly a pizza party upon completion…)

Thought I'd share her/our enthusiasm!

Have a great day!
Wendy Brochu
I appreciate you getting back to me. By the way, this is a great program and my students have really gotten a lot of information out of it. Thank you!

Kelli McCaffrey
Akron High School
I have two classes using the online curriculum, and I am using the lesson plan ideas as well. Thus far, all is well. The students are riveted.
Craig Dean
Corry Area Middle Senior High School
"FoolProof is a great teaching tool to foster student learning in financial literacy. The music, videos, and interactive games engage students right where they're at today in terms of technology and keep them focused on this critical material. The lessons provided for reinforcement are well thought out, as well."
Sandra Deiseroth
Horseheads High School
Annette and I will be excited to use this new version. Sounds like you have put in many hours making improvements. We look forward to putting it into our curriculum.
Julie Schwartz
Your website is wonderful. I can't thank you enough.
I'm going through FoolPoof Solo as is my daughter and it has maintained her interest--a task I could never have accomplished!
My insurance company USAA recommended you. What a blessing for me.
Best Wishes,
Linda Hubbard
Video Feedback
A video from the Credit Union Foundation
of Colorado & Wyoming.
Feedback from a teacher from Wisconsin.


What Students Say
At the end of the curriculum we give students the chance to rate us. Here is what they say: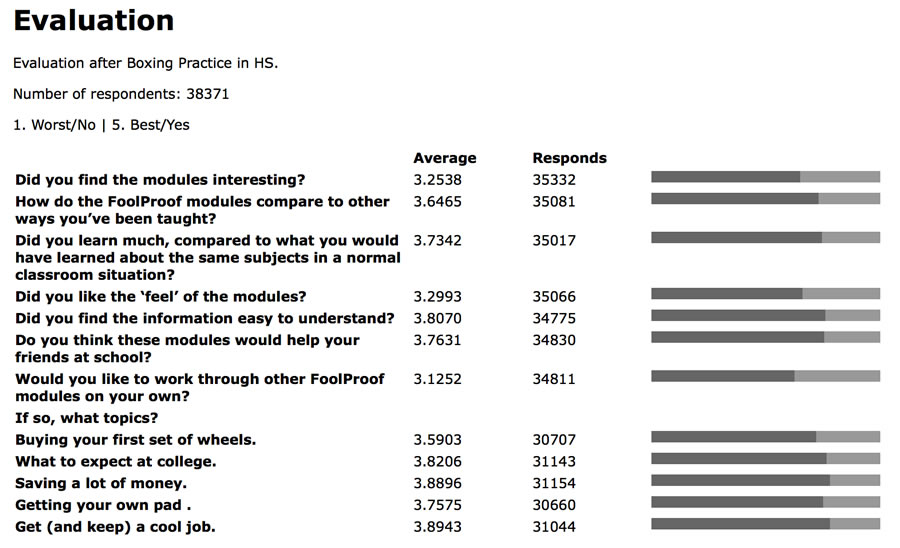 Click to enlarge